Jorman Rivera
Client Care Advisor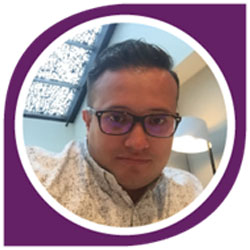 Jorman Rivera, Alberta
CLIENT CARE ADVISOR
"Diversity may be the hardest thing for a society to live with, and perhaps the most dangerous thing for a society to be without."
– William Sloane Coffin Jr.
Jorman joined Proud Fertility with broad experience in the healthcare sector. He immigrated to Canada in 2008 from Colombia to continue his work as a Community Nurse. Jorman has played a significant role in advising our company's direction on Client Care. His studies shaped his outlook on patient care, as he believes in a 'family centre care philosophy.' In his work, he has cared for all types of families, including GLBTIPQ families and families who have used third-party reproduction.
Jorman became passionate about the field of infertility when one of his cousins went through many rounds of IVF before ultimately succeeding with using an Egg Donor. Through being so close to this experience, Jorman became focussed on his work towards becoming a fertility nurse. In addition to nursing, he is near completion of his Doula Certification, where he has gained additional perspectives of the care of pregnant women.
Jorman is an advocate for diversity and social justice. He has been on numerous human rights campaigns related to GLBTIPQ, mental health, and religious freedom issues. As a Certified Spanish Translator, he recently combined these skills and passion for client care and served as a volunteer translator and interpreter on multiple international trips to the Dominican Republic and Mexico.
Jorman is also on staff as a Language Specialist at the Mount Royal University Language Department in Calgary. He is a big asset to Proud Fertility when his strong communication skills are utilized while serving the many Spanish Intended Parent(s) who come to us to grow a family.
If you run into Jorman on his spare time, he can be seen salsa dancing or volunteering in the community educating high-risk youth.