Nathan Nippard
Client Care Advisor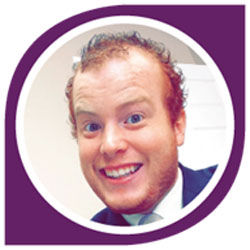 Nathan Nippard, Newfoundland
CLIENT CARE ADVISOR
"Keep love in your heart. A life without it is like a sunless garden when the flowers are dead."
– Oscar Wilde
Born and raised in Horwood, Nathan Nippard resides in the town of Gander, in Central Newfoundland. Nathan became passionate about the route of surrogacy and egg donation after researching his family-building options as a proud gay man. He believes that this path is one that no Intended Parent should be ashamed of using – he appreciates all types of families regardless of how they come together.
Nathan's unique skills from his extensive work as a funeral director in Gander and Corner Brook have been transferable to his role at Proud Fertility as a Client Care Advisor. As a funeral director, he has been well-known for his compassion in caring for grieving families. He is passionate about being there for people and guiding them through what they think could be very well the most difficult time in their lives. Like all of his other Proud Fertility colleagues, Nathan especially appreciates that the journey of surrogacy can be unpredictable. His perspectives dealing with death have been well considered as part of Proud Fertility's holistic client care.
Nathan's radiant and magnetic personality is what makes him so easy to connect with. He is as active in the GLBTIPQ community as much as he can be given the location of his residence, and he is well connected to the many diverse communities in Newfoundland. In his free time, you can catch Nathan singing his little heart out in the community choir, "The Chorus." Christmas is Nathan's favourite holiday – he already starts to make Christmas preparations by July. By the first day of November, the tree is already out and he's meticulously planning what new Christmas decorations he's acquired recently will go where.