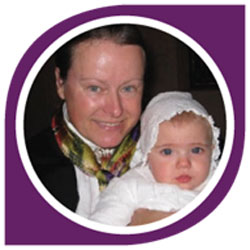 Vibeke Midgaard, Norway
SCANDINAVIAN LIAISON
"Bare død fisk svømmer med strømmen." (Only dead fish follow the stream)
– Norwegian Proverb
Born in Copenhagen, Denmark and raised in Oslo, Norway, Vibeke Midgaard joined the Proud Fertility Team with a wealth of experience pursuing single parenthood using a Surrogate Mother, Egg Donor, and a Sperm Donor. Vibeke's success story to becoming a mother is a true testament of relentless determination. She began her journey just before turning 40, and after more than a dozen IVF treatments in Denmark and North America, she had no success. She finally turned to surrogacy and this is what made her a proud single mother at 48 years old.
Vibeke's extensive marketing and sales experience in the telecommunications and food industry makes her a natural "go-to" person for the Proud Fertility Team in engaging and serving Intended Parent(s) from Scandinavia. She is fluent in English, Norwegian, Danish, French, and even knows a bit of German. She is also a great pedagogue when it comes to imparting her knowledge. She is always ready to share and she does so with great humility. This has come naturally for Vibeke as she has spent years teaching immigrants and high school students.
Vibeke loves spending time at her cabin, skiing, biking and hiking in the mountains with her daughter and dog.