Having a baby is the best reason to celebrate! Endless congratulations and so much excitement mean there's always a reason to throw a party!
Today's parents aren't restricted to a traditional ladies-only baby shower! More and more moms and dads to be are throwing blessingways, co-ed baby showers, and gender reveal parties! Why not have all three!
One of our Surrogate Mothers recently shared the sex of the baby she is carrying with her Intended Parents, friends, and family by throwing a gender reveal party! We were honored to attend and capture the big moment on video!
Proud Surrogate Mom shares the sex of the baby she is carrying with her friends, family, and Intended Parents!
If you're thinking about celebrating the sex of your baby or the baby you're carrying as a Surrogate Mother, we have some great ideas for how to reveal the big news!
Pink or Blue Handprints
This is one time you won't mind your kids touching you with their sticky hands!
Surprise your Intended Parents on camera (or friends and family) by having your children paint their hands pink or blue in another room. They can place their hands on your belly and lift them for the big reveal!
A Cake Reveal
Pass off the sealed envelope from your ultrasound to your favorite baker. Gender reveal cakes can be pink and blue on the outside and when you cut a piece the inside reveals the sex of the baby! Crave Cupcakes makes the most adorable Gender Reveal Cakes right here in Calgary!
Cupcake or Studmuffin
Take a bite to reveal cupcake fillings that are the corresponding color! Make your own with Love to be in the Kitchen.
Box of Balloons
You may have seen this done on Instagram or Facebook. Cut open the box and helium-filled balloons of pink or blue pop out! Jennifer Allwood shares a super cute gender reveal box on her blog!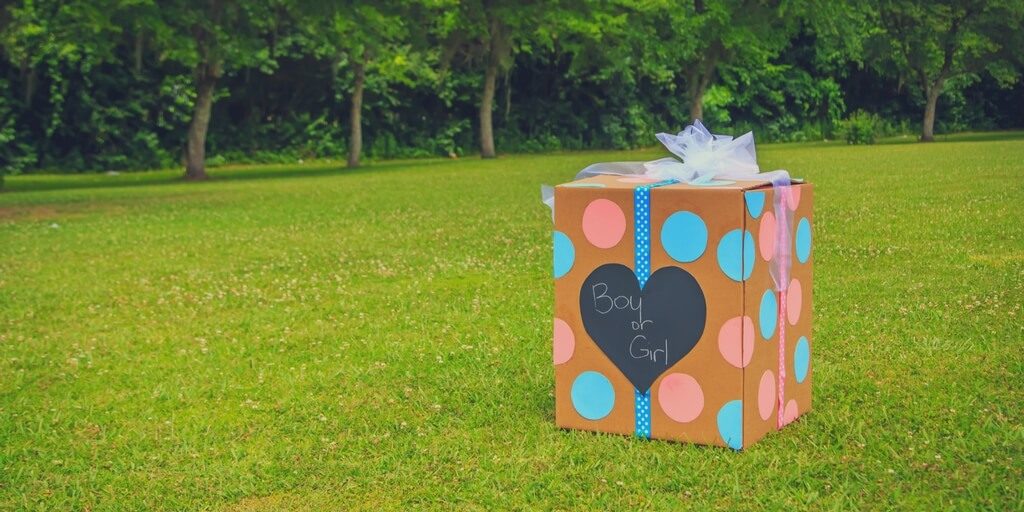 Pop the Balloon
Have your secret keeper fill a neutral balloon with pink or blue confetti and helium. Pop the balloon to be showered with confetti revealing baby's sex! Sam Dobson's black balloon was filled with pink confetti!
Piñata Party
Fill a colorful piñata with pink or blue candy. Let the children (and children at heart) take turns swinging at the piñata for the big reveal! Check out the adorable stork piñata on The House That Lars Built.
What about a Powder Bomb?
Grey Loves Baby did an amazing powder bomb photoshoot. Everyone wore a white t-shirt and was given a cup of powder in the right color. On the count of three… Pink everywhere!
Did you have a gender reveal party for your baby? What did you do to share the surprise?