At first mention, the idea of an older woman giving birth may seem like a medical challenge, but age isn't always the best indicator of maternal suitability.  
We've all read the headlines "Labor of Love: Woman carries Her Daughter's Baby", or, "A 51-year-old woman gave birth to her granddaughter."   In actuality, the first case dates back to 1987 when a South African woman gave birth to her triplet grandchildren.
Although there are ethical, emotional concerns of ''grandma surrogacy," gestational carriers at any age can have an increased risk of complications. 
What defines age?   Is it a number, a feeling or health and vitality?  
I'm a grandmother, however, I had my daughter when I was 20 years old, now at 46 years, I'm a proud gestational surrogate who is successfully carrying a surrobaby.
Dr. David Cohen an obstetrician & Ethicist at the University of Chicago states that older woman and surrogacy "It works despite the woman being post-menopausal because the uterus continues to respond to hormones forever."  
Although Intended Parents tend to think of a younger surrogate as a prime gestational carrier, there can be emotional complications as younger surrogates may be more attached to the pregnancy itself, an older gestational surrogate might actually be one of the least complicated scenarios for surrogacy.  
Intended parents that are in need of matching with a gestational surrogate should understand that a successful surrogacy journey is a lot of hard work on everyone's part.  The commitment to Surrogacy in Canada requires many meetings with lawyers, medical appointments, time, travel and of course the process of IVF, then the gestational pregnancy itself.  
I'm 46 and I'm growing a baby for someone else
Being 46 and a gestational carrier, I'm established in my career able to commit to scheduled appointments, there's an advanced level of experience that allows you to be prepared to make this investment in time, and effort, to remain flexible, and to accept the inevitable ups and downs.  
Surrogacy is one of the most difficult choices to make for Intended parents the desire to become a parent when challenged by fertility can be distressing.  It is even more demanding to find the desired surrogate who you can completely rely on.  It's a big responsibility and the idea of having to adjust to completely handing over this obligation to someone you've never known before can be complicated.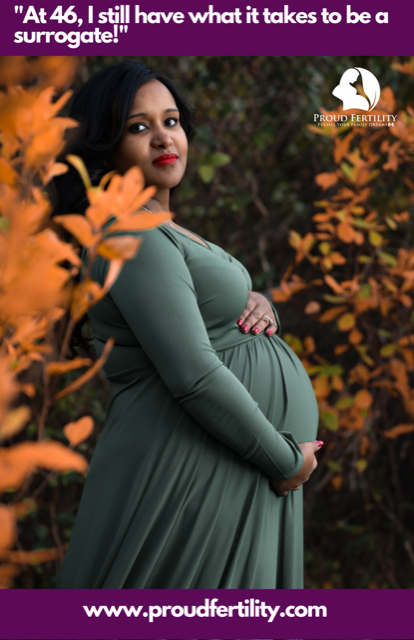 Inclusion at its best – even over 40, we are rockstar surrogates
Proud Fertility helps intended parents in this process and guides them to find the best surrogate for their future babies and families. I'm so very grateful for my Canadian surrogacy agency for being inclusive to all those who want to become Intended Parents, but also for being an inclusive agency that welcomes and embraces those who want to give the gift of surrogacy. I will never forget the conversation I had with single dad by choice Nathan Chan, the Managing Director of Proud Fertility, he had in the past, personally had the help of a 49 year old surrogate to help him on his journey, and would not hesitate using an older surrogate again.
It is a prototypical concept that woman below the age of 30 remain in the best health, which, in fact, is a myth.  A woman can be healthy in all the years of her childbearing age.  As a woman gets older, she develops more maturity in herself that helps her bear the child better.   Women remain fit to carry a child until the age of 40 years or more, in actuality many business professionals are now starting their families at 40+.  
A woman in her 40's or even more can shelter the embryo and deliver a healthy surrobaby completing the gestational period.  Through proper IVF, a rigorous medication plan and medications, I like to think that I make a great example of an older woman who is an excellent surrogate candidate for Intended Parents. A woman in this phase of my life, in my opinion are just as responsible for the role as a gestational surrogate as they can effectively take care of themselves and the surrobaby during gestation.  
I would not medically qualify as a 46-year-old surrogate if there were concerns of diabetes, blood pressure issues or chronic illness.  I'm healthy, fit and well equipped to identify with the important role in supporting a family through the journey of surrogacy.  
My unsolicited words of wisdom to Intended Parents
An older woman or dare I say a "mature" woman, is much more conscious in understanding any changes in their bodies.  As an Intended Parent, if you're considering a surrogate, you should not emphasize on the surrogate's age and rather focus on her health and her emotional stability.  She may be the gateway to your happiness!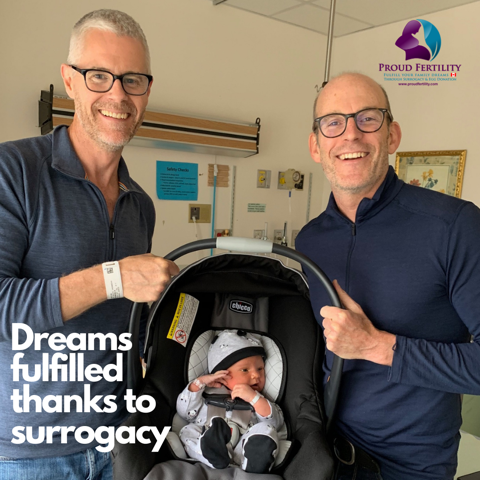 Have you been considering carrying a child for someone who can't?
Complete a Surrogacy Interest Form and our team will walk you through the process of becoming a Gestational Surrogate.
Are you ready to learn more about becoming a parent through surrogacy or egg donation?
Filling out an Intended Parent Interest Form is all it takes to get started.