During the month of February, I got the privilege to travel alongside a friend as a travel companion and support person while she underwent screening to become a surrogate.
I've always had an interest in becoming a surrogate and have plans to pursue this once I give birth to the baby I am carrying. So I found the opportunity to be a travel companion to be an amazing opportunity to have an inside look on what surrogacy screening entails.
Ready to take off.
We left on an early Sunday morning and arrived in Toronto and settled into our hotel. We had decided to arrive the day before as the appointment was scheduled for early Monday morning and we wanted to be sure we were there on time.
Arriving at the clinic.
The clinic was beautiful and had a calming aspect to it. I quickly noticed that the waiting room was full and felt a little ache in my heart. You see, I have previously gone through fertility treatments to achieve pregnancies and spent many hours in clinics.
The low down on the screening.
The first part of the screening involved a couple of different ultrasound. During the first half of this procedure, my friend's uterine lining was checked as well as her ovaries. The second half of the procedure involved threading a small thin catheter into the cervix and filling it with saline solution. This test checks the uterine cavity itself as well as the tubes and makes sure there are no blockages or structural issues. My friend said this test was a minor discomfort and but more so after it was over. She was advised to take an Advil or Tylenol about 30 minutes prior to the procedure.
Once the ultrasound was done and the results were satisfactory, we moved on to the physical. This involved the standard stuff such as hight, weight, blood pressure, listening to the heart.
During both the ultrasounds as physical, the staff at the clinic were so kind in answering any question that either one of us had and they explained everything very well.
Meeting the doctor.
Once the physical was done, we met with the reproductive endocrinologist (fertility doctor) and he gave my friend the rundown of what her medications would be and how she would take them. He was able to estimate an embryo transfer date based on her next menstrual cycle and medication schedule. This, of course, all depends on her uterine lining which would need to be checked at a fertility clinic local to us.
We were advised that our time at the screening may extend to a few hours but were pleasantly surprised that we were ahead of schedule.
Medications galore, oh my!
Once we left we chatted about how excited we were that she was approved to begin her journey and what an unbelievable amount of medication she had to bring back home. We chatted about concerns and some fears about the idea of giving one's self-needles, but I know if anyone can do it, it's her. And of course, I'm here to help whenever and however I can.
I'm so honored that I was given the wonderful opportunity to be a travel companion and support person and given an inside look to see what is involved in the beginning stages of becoming a surrogate. I look forward to the time when I go on my way for my own screening.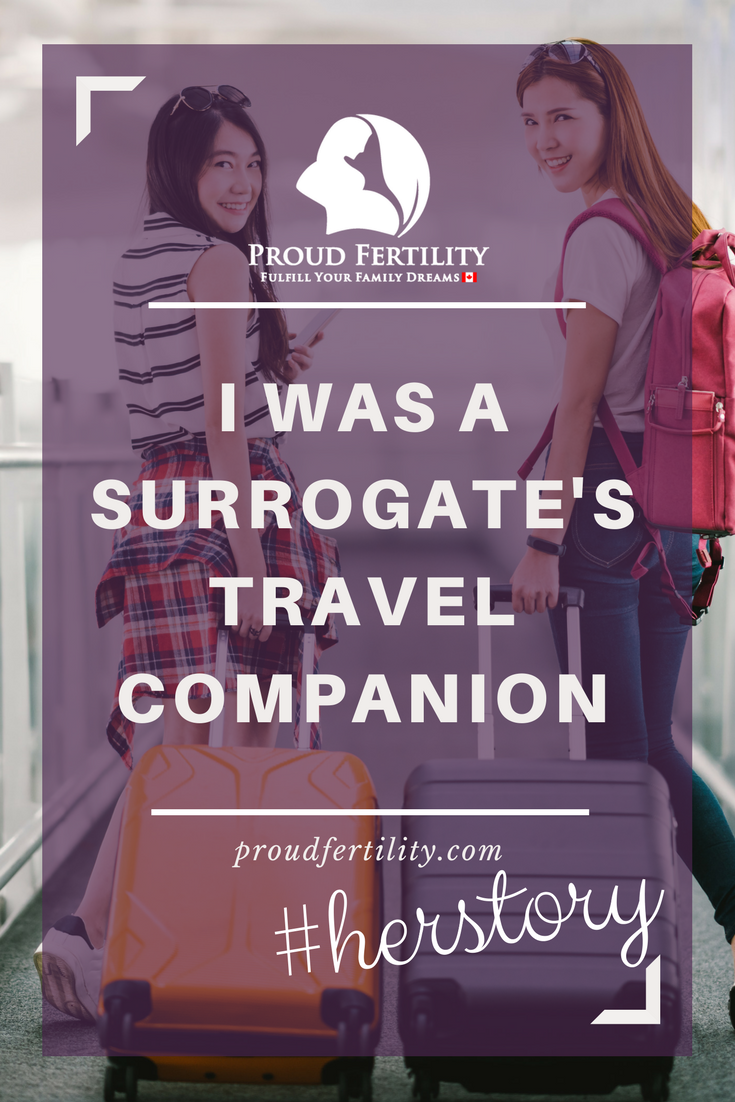 Ready to learn more about becoming an Egg Donor?
Complete an Egg Donor Interest Form and we will be in touch!
Want to receive donor eggs and begin your journey to becoming a parent?
Filling out an Intended Parent Interest Form is all it takes to get started.