We already know how reading books to your child can set them up for success; exercising their brains, developing language skills, creating a bond, building concentration, loving learning, and many more benefits.  It just makes sense to use the opportunity to introduce a number of different topics for knowledge, including egg donation and surrogacy. Here is a list of egg donation and surrogacy books for kids.
A Tiny Itsy Bitsy Gift of Life: An Egg Donor Story
This children's book uses a family of rabbits to introduce and educate about egg donation in an easily relatable and uncomplicated fashion.   The author, Carmen Martinez-Jover, crafts a cute story, particularly for young children.   This book is perfect for introducing the basics to such topics as egg donation and infertility.
The Pea That Was Me: An Egg Donation Story
Are you worried about how to talk with your child about their egg donor?  Not sure how to start or how to explain?  This wonderful little gem puts into words, the exceptional and amazing way your baby came to be, making it a useful addition for an intended parent's library.  Aimed at ages 3-5, The Pea that was Me was written by Kim Kluger-Bell, a psychotherapist and reproductive specialist, to encourage a positive message for your child about their egg donor and family beginnings.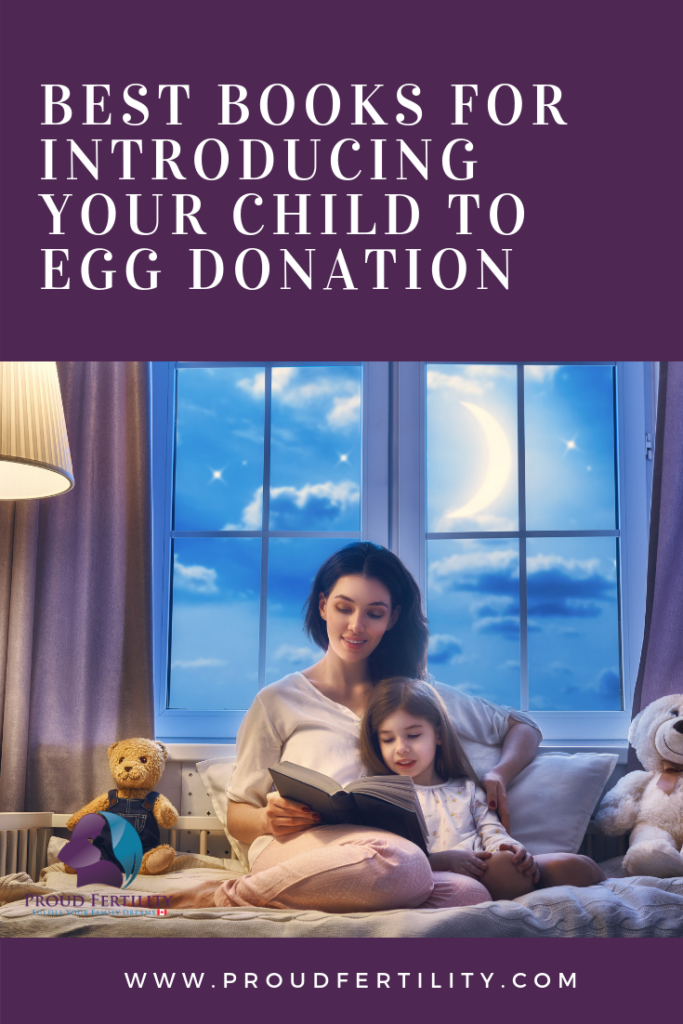 The Family Book
Todd Parr, the author, celebrates uniqueness in this fun, bright story.  He emphasizes that families come in many different sizes, shapes, colours and although very different, all are special and full of love.  This book is great for guiding a young child in questioning their own family and world.  So whether your family is single-parent-by-choice, has two moms or dads, is quite busy or quiet, has many or few, this book is an enjoyable way to encourage family bonding while embracing diversity.
It Takes Love (and Some Other Stuff) to Make a Baby
L.L.Bird uses a two-mom family to explain the vocabulary in what it takes to make a baby.  Words such as "ovaries", "uterus", "egg" and "sperm" are introduced and defined in the context of the creation of their family.  This a great read for slightly older children, able to understand and learn about the more complex concepts around IVF.
The Twin Kangaroo Treasure Hunt: A Gay Parenting Story
Another children's story by Carmen Martinez-Jover, this book explains egg donation and surrogacy via a gay parenting journey.  The terms "egg donor" and "surrogate" are introduced for children able to comprehend, and the tale uses two kangaroos who use egg donors for their journey to fatherhood and twins!   An uncomplicated and loving way to explain a complicated and emotional experience.
There are so Many Reasons to Read to Your Child!
No matter which books you choose to read to your child, choose to read.  The benefits are massive and the potential for your child's growth and understanding of the world around them is well documented.  It encourages special time with your child and allows you to nurture your loving bond.
Are you ready to learn more about becoming a parent through surrogacy or egg donation?
Filling out an Intended Parent Interest Form is all it takes to get started.
Ready to learn more about becoming an Egg Donor?
Complete an Egg Donor Interest Form and we will be in touch!